This was originally posted to xtraxtralex.com in October 2015.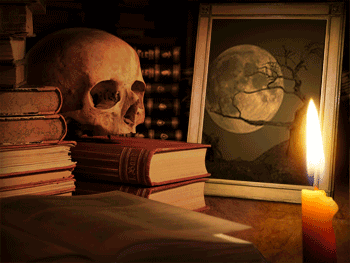 1. OHIO UNIVERSITY (ATHENS, OH)
As you probably know, Ohio University is home to one of the biggest Halloween celebrations in America- but the school is scary all 365 days of the year. The university's West Green (aka the quad) sits on a Native American burial ground, where students have claimed to see a headless buffalo galloping around. The majority of the buildings have at least one ghost story or legend attached to them. There are poltergeists that throw items at people, dead teachers who talk to students, and sealed rooms that emit noises and conversations. There has even been a sighting of a ghostly basketball team. The most infamous building, Wilson Hall, houses room 428, where a girl allegedly died after practicing satanic rituals. The school has sealed the room to students, because of "Strange" incidents. Wilson Hall also sits on the dead center of a pentagram formed by 5 cemeteries in Athens.
2. PENN STATE (STATE COLLEGE, PA)
In 1969, student Betsy Aardsma was stabbed to death in the basement stacks of one of Penn State's main libraries. Her murder was never solved. Students have since reported being grabbed and hearing screams of terror while in the basement stacks. Also, there is a supernatural ax murderer that apparently haunts Brumbaugh Hall on Halloween.
3. FORDHAM UNIVERSITY (NY, NY)
Whose idea was it to construct buildings over the site of an old morgue? Keating Hall and Finlay Hall (a dorm) were constructed over one of these bad-boys, and students have not stopped yapping about ghostly occurrences ever since. Sleeping Finlay residents have reported being awoken by cold and unseen hands grasping at their throats. To make the school even scarier? Scenes from the movie The Exorcist were filmed here.
4. UNIVERSITY OF GEORGIA (ATHENS, GA)

Southern schools are creepy. At University of Georgia in Athens, curious students have connected with resident ghost Anna Hamilton via Ouija board on several occasions. She is located in the Phi Mu sorority house, where it is said that she witnessed her boyfriend being murdered and committed suicide after. Many have reported hearing crying in empty rooms. A member of the founding family of Alpha Gamma Delta sorority hung herself in her closet after being stood up on her wedding day. People have reported seeing a woman stare menacingly at them from the attic windows. This differs from tales of some sorority sisters, who insist that staying in the room where the young woman hung herself has dramatically improved their love lives. Additional hauntings of the building include lights flickering on and off, objects moving by themselves, and random sounds.
5. NOTRE DAME UNIVERSITY (NOTRE DAME, INDIANA)
One of Notre Dame's buildings, Columbus Hall, is believed to be built on a Patawatami Indian burial ground. There have been sightings of indigenous people on horses on campus, terrifying students. Additionally, Notre Dame is the home of deceased football star George Gipp, who is totally friendly. He often pats students on the back and terrifies the drama department with ghostly sightings.
6. ST JOSEPH'S COLLEGE (NY, NY)
This college was used as a field hospital during the civil war. Students often report seeing nurses and hearing the screams of men being amputated (a regular occurrence during the civil war). Some students have reported walking into full on ghostly hospitals, where nurses rush from bedside to bedside amputating body parts and aiding patients. Screams of terror and dread fill the halls. Some students have reported smelling blood and medical chemicals. It's not all dreadful, though- Mother Seton, the founder of the American Sisters of Charity, is seen smiling at students a lot and aiding ghostly soldiers on the lawns of campus.
7. UNIVERSITY OF ILLINOIS (URBANA-CHAMPAIGN, IL)
What would you do if you awoke to a gray-suited, faceless man standing over your bed at night? My first guess is that you'd scream. Many students have reported seeing this creepy intruder, including drunkies and sober kids a like. Years ago a student was found hanging head in a closet (the police suspected homicide but never drummed up a suspect). In 2007, the incident happened again- except this time, the guy was alive and completely disoriented. The same night that this happened, several students were awakened to a man in a gray uniform standing over them.
8. THE OHIO STATE UNIVERSITY (COLUMBUS, OH)
This list wouldn't be complete without my alma mater on it. In addition to famed serial killer Jeffrey Dahmer once living in Morrill Tower (home to over 2,000 students every year), my school has a ton of ghost stories and odd happenings. There's a ghost in Hopkins Hall that scratches messages into the walls of the elevator- things like "Im still mad at OSU for what they did to me." This spirit came from a girl who was stuck in the elevator late one night and suffered a mental breakdown and began scratching messages into the walls. She survived but then died of a car accident after graduating. Pomerene Hall and Mirror Lake are haunted by a professor who killed himself- his body was found where Pomerene hall now stands. His wife, who vowed never to leave him, died some time later and her spirit has been seen walking along the Mirror Lake in a pink dress. Orton Hall is haunted by the ghost of Edward Orton. At night you can sometimes see lights flicker in the windows. I have seen this with my own eyes. A young woman died when burned to death in a fire in Lincoln Tower, and residents have reported hearing screams and feeling general unease. Herbert Atkinson was a member of the Board of Trustees and died in the 1950s. Per his will, his ashes were placed in the wall of Bricker Hall behind a plaque. Since then, lights have flashed, doors have slammed, and his ghostly figure has been seen drinking punch in the lobby. The scary part about all of this? These are just a few of the ghost stories around at OSU.