Gorging myself daily on the antics of Donald Trump and his administration over the next four years will not be a pleasant task.
But I will resist. I will help whoever is reading this resist. Resist what, you ask? The alternative facts  (the plain person pronounces this as lies)and borrowed fascism that are ripening in the Trump administration as I type these very words. Every Wednesday you can count on a brief ledger of his malignancy, corruption, and incompetency… basically all the things that matter.
If you missed last week's Tump Tracker, click here.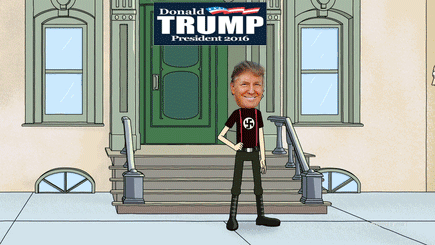 On February 2nd…
Trump criticized protests at University of California Berkeley and threatened to snatch away funding if the school didn't get the situation under control
Trump approved a raid in Yemen that killed an 8 year old girl and a Navy Seal, without "sufficient intelligence"
Trump hung up on the prime minister of Australia after bragging for 25 minutes about how he won the electoral college vote
Kellyanne Conway falsely reported a massacre incident at Bowling Greene
On February 3rd…
Trump signed an executive order that allows the secretary of treasury to review the Dodd Frank financial oversight law. He commented that "so many people, friends of mine, that have nice businesses, and they can't borrow money."
On February 4th…
On February 5th…
Donald Trump announced during an interview with Bill O'Reilly that he plans on putting Mike Pence in charge of voting fraud commission
On February 6th….
Trump claimed that any negative polls are fake news
To the bewilderment of everyone with internet access, he claimed the media is covering up terrorist attacks, saying "It's gotten to a point where it's not even being reported. In many cases, the very very dishonest press doesn't want to report it."
Sean Spicer claimed that the abundance of protests against the Trump travel ban aren't organic, but being funded by a wealthy dissenting entity.
On February 7th…
Trump blatantly lied about America's murder rate. "The murder rate is the highest it's been in … 45 to 47 years," Trump told a White House gathering of county sheriffs. "I used to say that in a speech and everybody was surprised, because the press doesn't tell it like it is."
It is revealed that Melania launched a defamation suit against the Daily Mail for calling her a former escort, claiming they cost her money opportunities as first lady.
Trump's Administration continued their effort to torpedo any dissenting media this week. Kellyanne Conway's blatant disregard for facts and Trump's unchecked statistics are creating a narrative in this country that only discriminatory legislation can fill. This also serves a greater purpose of dividing the nation among who will believe Trump and who wont. As noted by CNN writer Gregory Krieg, "With… the nation's highest ranking law enforcement officer's loyalty questioned and the media accused of conspiring to cover up terror attacks, the Trump administration's reality is on a collision course with a divided nation."
See you next week.