Gorging myself daily on the antics of Donald Trump and his administration over the next four years will not be a pleasant task.
But I will resist. I will help whoever is reading this resist. Resist what, you ask? The alternative facts  (the plain person pronounces this as lies)and borrowed fascism that are ripening in the Trump administration as I type these very words. Most Wednesdays you can count on a brief ledger of his malignancy, corruption, and incompetency… basically all the things that matter.
Red flags abound in the Trump Administration.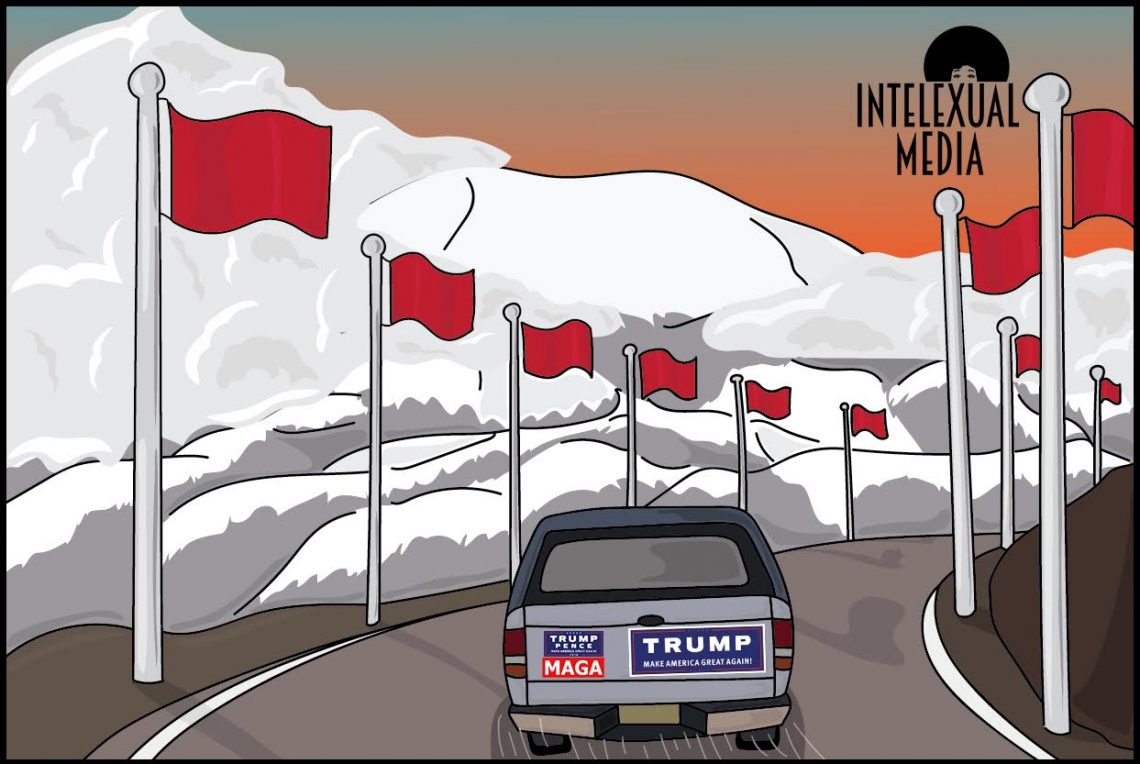 On February 15th… 
Andrew Puzder withdrew his name from the labor secretary nomination
Trump met with 8 big retailers including Target and Best Buy regarding "tax code revisions"
The Environmental Protection Agency was told that Trump will be signing some executive orders regarding them within the coming weeks
Trump offered his National Security Advisor position (which Michael Flynn resigned from the day before) to US Vice Admiral Robert Harward
Trump tweeted about leaks regarding Michael Flynn and Russia being illegal instead of about the leaked info
On February 16th… 
Trump claimed that any talk of campaign ties with Russia are a "ruse" and a "scam" by mainstream media
He announced the new Department of Labor secretary, Alexander Acosta
Vice Admiral Robert Harward turns down the National Security Advisor position.
Trump mentioned a "one state: solution in regards to Israel-Palestine, which could be dangerous for our relationships with Palestine. Read more here.
Trump held a super long press conference and dodged questions regarding Anti-semitic sentiments sweeping the nation. He also didn't know what the Congressional Black Caucus was (they later tweeted a letter they sent him when he first became president, requesting an audience)
On February 17th…
Trump visited Boeing in South Carolina and pledged to punish companies for moving overseas
The White House said it would not be utilizing the National Guard for collecting immigrants
The senate approved Scott Pruitt for the Environmental Protection Agency, a guy who will surely gut it. Read more about him here.
Trump accused the CIA from withholding information from him. CIA director Mike Pompeo refutes this claim.
Trump called The New York Times, NBC News, ABC, CBS, and CNN fake news outlets
On February 18th…
Two sources tell CBS news that Trump's pick for Navy secretary is likely to jump ship (pun intended)
Trump stroked his own ego by holding a campaign rally at the Orlando-Melbourne International Airport, where he alludes to something terrible happening in Sweden
Mike Pence said the United States "will hold Russia accountable", though Trump wants to work with Russia and is cozying up with Putin
He tweeted about Mar-A-Lago, with the $200,000 a year membership that has cost tax payers $10 million dollars (so far) for him to visit, as the "Southern Whitehouse"
On February 19th…
Trump met with National Security Advisor candidates at Mar-A-Lago.
A senior Trump administration member was fired for criticizing Trump in private
The Chief of Staff Reince Priebus defended Michael Flynn for speaking with Russia
The former Swedish prime minister replies to Trump's allusions to a terrorist attack by asking "What has he been smoking?"
On February 20th…
The Department of Homeland Security announced that it will soon unveil new immigration guidelines
Trump claimed his quote about Sweden was regarding immigration
Trump met with HHS Secretary Tom Price regarding repealing the ACA
Despite White House reports of the contrary, Trump played 18 holes of golf with a professional golfer.
Mike Pence announced his disappointment with Michael Flynn
Mike Pence said that he and Trump support free press, but that "the President and all of us will continue to call out the media when they play fast and loose with the facts"
On February 21st…
Trump visited the African American History Museum, and made stale remarks about stopping anti-semitism.
If you haven't noticed, there seems to be a "Good Cop, Bad Cop" narrative going on between Trump and Pence. While Trump is coming across as incompetent, lazy, and hateful, Pence is appealing to a broader audience by letting Trump fall on his own sword. Trump hasn't passed any legislation from others or publicly endorsed anybody's bills, so he doesn't seem to be a team player to republicans. To European allies, Pence comes across as collected and cool, especially during his speech in Munich; it was praised by republican Lindsey Graham as "terrific" and "reassuring" to our allies. While it would be awesome if Pence really was the benign figure that he's been portrayed as over the past few weeks, its not real. Pence is just as bad as Donald Trump. Time will only tell how this game plays out. Will Trump be impeached? Will he die? Will we be stuck with the president we were (secretly) always meant to have? Let's hope not.