Gorging myself daily on the antics of Donald Trump and his administration over the next four years will not be a pleasant task.
But I will resist. I will help whoever is reading this resist. Resist what, you ask? The alternative facts  (the plain person pronounces this as lies)and borrowed fascism that, combined, are ripening in the Trump administration as I type these very words. Over the summer, every week you can count on a brief ledger of his malignancy, corruption, and incompetency… basically all the things that matter. If you've missed the previous weeks, click here.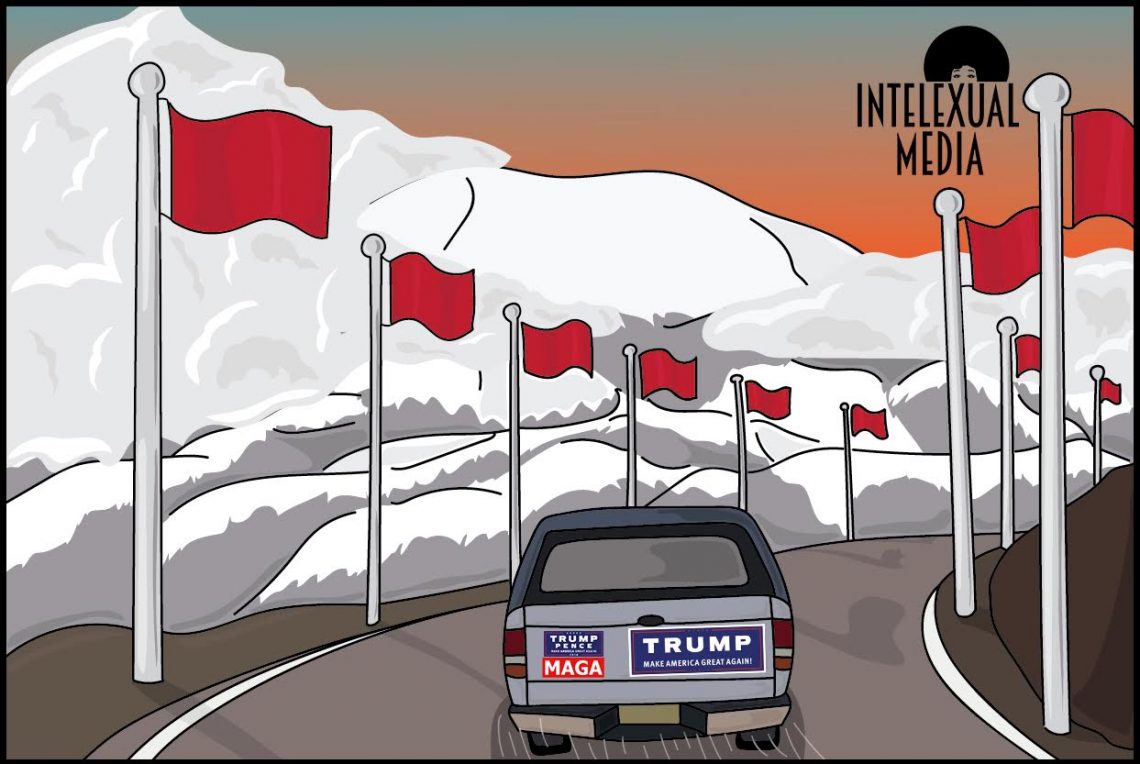 On September 20th…
The world reacts to Trump's "rocket man" speech at the UN Summit, in which he pledged to "totally destroy North Korea" if the US is forced to defend itself
Trump meets with numerous world leaders, including African ones whom he told "I have so many friends going to your countries trying to get rich."
German Chancellor Angela Merkel tells press she does not agree to Trump's approach with North Korea
Trump announces he has made a decision on keeping the Iran Nuclear Deal, which was implemented in 2015 and put a cap on how much uranium Iran could produce in addition to ending the production of weapons grade plutonium. When agreeing to restrict it's nuclear program, Iran got looser economic sanctions from the United Nations.
French President Macron tells press he has not given up convincing Trump to not end the Iran Nuclear deal
It's reported that Robert S Mueller asked the White House for documents involving Trump's most controversial actions as president
The Daily Beast reports that suspected Russian operatives organized more than a dozen pro-Trump rallies in Florida last year
The Washington Post reports that "less than two weeks before Donald Trump accepted the republican presidential nomination, his campaign chairman [Paul Manafort] offered to provide briefings on the race to a Russian billionaire closely aligned with the kremlin."
California's attorney general is planning to file a lawsuit challenging Trump's plan to construct a wall along the Mexican border
On September 21st…. 
Trump signs executive order that increases his authority to target people and institutions that do business with North Korea, in an effort to cut funding for North Korea missile testing
World leaders speculate whether Trump will pull out of the Iran Nuclear deal
Kim Jong Un calls Trump mentally deranged, vows to make him "pay dearly for his speech" at the UN summit
Reports that Facebook will provide more than 3,000 ads linked to Russia to the congressional panels investigating hacking of the 2016 election
On September 22nd…
Trump delivers the following speech, to NFL players:
The Trump Administration ends Obama era policy that targeted on campus sexual assault. Betsy DeVos claims it is to curb false rape allegations.
It is reported that Trump's travel ban will be revised to target specific countries
On September 23rd….
It's reported that Trump ignored aide's warnings to not personally attack Kim Jong Un in his speech to the UN. "Rocketman" was improvised
Trump disinvites Steph Curry from the White House
Both NBA (Golden State Warriors) and NCAA (North Carolina Tarheels) champs say they're skipping visits to the White House
North Korea says that targeting the US mainland is inevitable because of Trump's jabs at Kim
Trump tweets about an Iranian missile launch. Remember, he is currently thinking about dropping the Iran Nuclear Deal
On September 24th…
Trump places a travel ban on Venezuela, North Korea, and Chad, rounding out the previous list that included Iran, Libya, Syria, Yemen, and Somalia. Restrictions from the Sudan are lifted
The Supreme Court will hear arguments on October 10th on whether the travel ban discriminates against Muslims
Trump voices his delight in some NFL teams linking arms instead of kneeling
McCain reveals Trump never apologized for saying he wasn't a war hero
On September 25th…
North Korea says that Trumps tweets amount to a declaration of war
Trump faces more backlash from athletes, celebs, and politicians for his comments on NFL layers
For the third day, Trump has said nothing about Puerto Rico, which has been ravaged by Hurricane Maria
Trump calls John McCain's votes on health care legislation a "tremendous slap in the face to the Republican party."
Remember when Trump tweeted about an Iranian missile launch? It was a fake. 
On September 26th…
Trump says "massive effort" underway in Puerto Rico, and that he will be going there next Tuesday. His comments that there is a whole "atlantic ocean" stopping him from helping in a timely manner do not go over well.
Of course, Trump tweets more threats to North Korea
Trump says he's "disappointed in certain so called republicans" and how they're voting on healthcare
For the past week, the media has largely devoted it's time to covering Trump's commentary on the NFL. But when looking at all of the pieces, you can see the TRUE news is Trump's desire to end the Iran Nuclear Deal. In addition to falsely claiming that they are violating the deal, he reported false news of them doing missile testing. Clearly, he wants to withdraw America from the Obama era policy. The endgame is of course financially motivated, as exiting the pact means Trump probably wants to levy more economic sanctions against Iran. Analysts say this could trigger an arms race in the region, along with causing allies to lose [more] faith in America. Also, Trump has caused even more diversion from this bit of news by strategically staying quiet on the crisis in Puerto Rico. Isn't this all exhausting?
What do you think? I'd love to hear your thoughts. Be sure to leave a comment below.